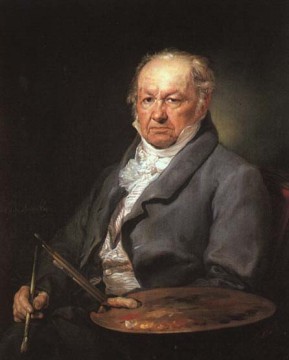 Francisco José de Goya y Lucientes was an innovative Spanish painter and etcher; one of the triumvirate—including El Greco and Diego Velázquez—of great Spanish masters. Much in the art of Goya is derived from that of Velázquez, just as much in the art of the 19th-century French master Edouard Manet and the 20th-century genius Pablo Picasso is taken from Goya. Trained in a mediocre rococo artistic milieu, Goya transformed this often frivolous style and created works, such as the famous Third of May, 1808 (1814, Museo del Prado, Madrid), that have as great an impact today as when they were created.

A consummately Spanish artist, his multifarious paintings, drawings, and engravings reflected contemporary historical upheavals and influenced important 19th- and 20th-century painters. The series of etchings Los desastres de la guerra ("The Disasters of War", 1810-14) records the horrors of the Napoleonic invasion. For the bold technique of his paintings, the haunting satire of his etchings, and his belief that the artist's vision is more important than tradition, Goya is often called "the first of the moderns." His uncompromising portrayal of his times marks the beginning of 19th-century realism.

He was born in Fuendetodos (Zaragoza), and was apprenticed to Jose Luzan and Francisco Bayeu, whose sister he later married. He went to Italy and upon returning to Spain, he painted frescoes for the local cathedral in Zaragoza, and painted carton (designs) for the royal tapestry factory in Madrid, mostly scenes of everyday life. At the same time, he became established as a portrait painter to the Spanish aristocracy.

He was elected to the Royal Academy of San Fernando in 1780, named painter to the king in 1786, and court painter in 1789 (was appointed first Spanish court painter in 1799).

A serious illness in 1792 left Goya permanently deaf and he became increasingly occupied with the fantasies and inventions of his imagination and with critical and satirical observations of mankind. He evolved a bold, free new style close to caricature.

In 1824, after the failure of an attempt to restore liberal government, Goya went into voluntary exile in Bordeaux (France), continuing to work until his death there in 1828.


Search for more Goya items on AMAZON.