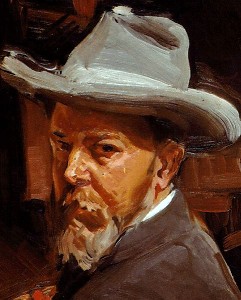 Joaquín Sorolla
was the eldest child born to a tradesman, also named Joaquín, and his wife, Concepción Bastida. His sister, Concha, was born a year later. In August 1865 both children were orphaned when their parents died, possibly from cholera. They were thereafter cared for by their maternal aunt and uncle.
He received his initial art education, at the age of fourteen, in his native town, and then under a succession of teachers including Cayetano Capuz, Salustiano Asenjo. At the age of eighteen he traveled to Madrid, vigorously studying master paintings in the Museo del Prado. After completing his military service, at twenty-two Sorolla obtained a grant which enabled a four-year term to study painting in Rome, Italy, where he was welcomed by and found stability in the example of F. Pradilla, the director of the Spanish Academy in Rome. A long sojourn to Paris in 1885 provided his first exposure to modern painting; of special influence were exhibitions of Jules Bastien-Lepage and Adolf von Menzel. Back in Rome he studied with José Benlliure, Emilio Sala, and José Villegas.
Although formal portraiture was not Sorolla's genre of preference, because it tended to restrict his creative appetites and could reflect his lack of interest in his subjects, the acceptance of portrait commissions proved profitable, and the portrayal of his family was irresistible. Sometimes the influence of Velázquez was uppermost, as in
My Family
(1901), a reference to
Las Meninas
which grouped his wife and children in the foreground, the painter reflected, at work, in a distant mirror.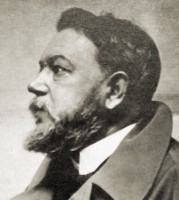 At other times the desire to compete with his friend John Singer Sargent was evident, as in
Portrait of Mrs. Ira Nelson Morris
and her children, (1911). A series of portraits produced in the United States in 1909, commissioned through the Hispanic Society of America, was capped by the portrait of
Mr.Taft, President of the United States
, painted at the White House, and suggestive of convivial sessions between painter and president.
The appearance of sunlight could be counted on to rouse his interest, and it was outdoors where he found his ideal portrait settings. Thus, not only did his daughter pose standing in a sun-dappled landscape for
María at La Granja
(1907), but so did Spanish royalty, for the
Portrait of King Alfonso XIII in a Hussar's Uniform
(1907). For
Portrait of Mr. Louis Comfort Tiffany
(1911), the American artist posed seated at his easel in his Long Island garden, surrounded by extravagant flowers. The conceit reaches its high point in
My Wife and Daughters in the Garden
(1910), in which the idea of traditional portraiture gives way to the sheer fluid delight of a painting constructed with thick passages of color, Sorolla's love of family and sunlight merged.