James Abbott McNeill Whistler
was an American painter and etcher, who assimilated Japanese art styles, made technical innovations, and championed modern art. Many regard him as preeminent among etchers.
Three of Whistler's best-known portraits,
Arrangement in Black and Grey No. 1: The Artist's Mother
(Musée d'Orsay, Paris),
Arrangement in Grey and Black No. 1: Thomas Carlyle
(1872-1874,
City Art Gallery and Museum
, Glasgow), and
Harmony in Grey and Green: Miss Cicely Alexander
(Tate Gallery, London) were painted around 1872. In 1877 he exhibited a number of landscapes done in the Japanese manner; these paintings, which he called nocturnes, outraged conservative art opinion, which did not understand his avoidance of narrative detail, his layers of atmospheric color, and his belief in art for art's sake. The English art critic John Ruskin wrote a caustically critical article, and Whistler, charging slander, sued Ruskin for damages. He won the case, one of the most celebrated of its kind, but the expense of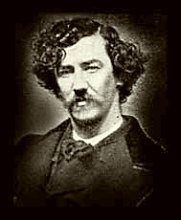 the trial forced him into bankruptcy. Selling the contents of his studio, Whistler left England, worked intensively from 1879 to 1880 in Venice, then returned to England and resumed his attack on the academic art tradition.
In later years Whistler devoted himself increasingly to etching, drypoint, lithography, and interior decoration. The
Thames
series (1860), the
First Venice
series (1880), and the
Second Venice
series (1881) heightened his standing as an etcher and won him success when they were exhibited in London in 1881 and 1883.
The Peacock Room
, which he painted for a private London residence (begun 1876 and moved in 1919 to the Freer Gallery of Art, Washington, D.C.), is the most noteworthy example of his interior decoration. Toward the end of his life, when he lived in Paris, Whistler came to be regarded as a major artist. He died in London on July 17, 1903.