Ilya Efimovich Repin
was born in Chuguev, in the Ukraine, in the family of a soldier-settler. He received his first lessons in art in 1858, when he started working for I. M. Bunakov, a talented icon painter from Chuguev. Commissions for portraits and religious paintings allowed Repin to collect enough money to go to St. Petersburg with the goal of entering the Academy of Arts. He arrived in the capital in 1863 and enrolled in the School of Drawing attached to the Society for the Encouragement of the Arts. Working with Kramskoi, in a year the young artist developed his skills sufficiently to be accepted to the Academy.
In May 1870 Repin went on a boat trip down the Volga during which he made sketches for his Barge-haulers on the Volga (The Volga Boatmen). A year later the artist finished his schooling at the Academy. His graduation work, The Resurrection of Jairus' Daughter, won the Gold Medal and a six-year scholarship (including three years of travel abroad). After traveling through Europe and staying in Paris (1872-76), Repin returned to Russia. He spent a year in Chuguev, making sketches for his famous Religious Procession in the Kursk Province.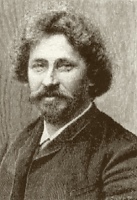 The next six years (1876-82) Repin lived in Moscow, trying to get along with the Academy, the Mamontov circle, and his old friends Stasov and Kramskoi. Tired of their constant squabbles, he moved to St. Petersburg. He made several bio trips to Europe—in 1883, 89, 94, and 1900. He taught at the St. Petersburg Academy (1894-1907) and was an influential member of the Wanderers. In 1900, during a trip to Paris, Repin met Natalia Nordman, the "love of his life" (Repin was separated from his wife), and moved to her home, Penaty (Penates), in Kuokkala (Finland), located about an hour's train ride from St. Petersburg. Together, they organized the famous Wednesdays at the Penaty which attracted the creative elite of Russia. When Nordman died in 1914, she left the estate to the Academy, but Repin occupied it for the next sixteen years. Handicapped by the atrophy of his right hand, Repin could not produce works of the same quality as those, which brought him fame. Although he trained himself to paint with his left hand, he lived his last years under a constant financial strain. Since the artist did not accept the Revolution of 1917, he did not want to go back to Russia, even though in 1926 a delegation sent by the Ministry of Education of the Soviet Union helped him financially and tried to entice him to return. To acknowledge and commemorate Repin's artistic achievement, in 1948 Kuokkala was renamed Repino.
As Fan and Stephen Jan Parker note in their monograph on Repin, "Western art historians and critics have minimized Repin's achievements and contributions either because his very "national" identity has not been grasped, or because—and this is most likely—Repin was neither a technical innovator nor the creator of a school of painting. bioover, he was a realist and not a modernist. Yet in the esteem of both prerevolutionary and Soviet Russia, Repin occupies a position alongside Dostoevsky and Tolstoy, Musorgsky and Rimsky-Korsakov.