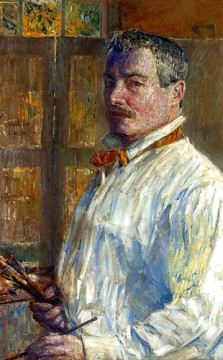 Frederick Childe Hassam
was born in 1859 in Dorchester, Massachusetts. In 1876 he was apprenticed to a local wood engraver and soon thereafter became a freelance illustrator. In the evenings he attended the life class at the Boston Art Club, then briefly studied anatomy with William Rimmer at the Lowell Institute, and took private lessons from the German-born painter Ignaz Gaugengigl.
In 1883 Hassam traveled to Great Britain, Holland, Spain, and Italy, where he produced a large number of watercolors that were exhibited at the Williams and Everett Gallery in Boston later that year. Once home, in 1884, Hassam married Kathleen Maude Doane and lived in Boston until the spring of 1886, when the couple left for Europe. In Paris, Hassam studied figure painting with Lucien Dorcet, Gustave Boulanger, and Jules-Joseph Lefebvre at the Académie Julian, and exhibited his work at the Salons of 1887 and 1888. In 1889 the Hassams returned to the United States and settled in New York. Hassam subsequently assisted in founding the New York Watercolor Club and joined the Pastel Society of New York. He also began to exhibit with the Society of American Artists. In 1897 he was a founder of The Ten.
During the 1890s and the following two decades, Hassam spent his summers painting throughout New England. His favorite sites were Old Lyme, Connecticut, and Appledore, on the Isles of Shoals, off the coast of New Hampshire, where he produced some of his best known works.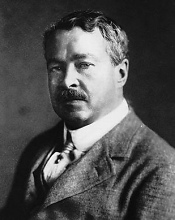 A prolific and industrious artist, Hassam painted numerous scenes of both the city and the countryside. Many of his early street scenes of Boston, Paris, and New York, with their reflections of wet pavement or of gaslight on the snow, evidenced a talent for capturing the effects of light and atmosphere.
Throughout his career Hassam garnered numerous awards and prizes and earned the attention of the collectors George A. Hearn, John Gellatly, and Charles Freer. His work was widely exhibited throughout the country, and in the 1913 Armory Show Hassam was represented by six paintings, five pastels, and a drawing. About 1915 he turned to printmaking, producing etchings and drypoints first, and lithographs about two years later. By 1933 a catalogue raisonné of his intaglio prints listed 376 different plates. Toward the end of his life Hassam most often exhibited graphic works. The quality of his paintings, in the meantime, became increasingly uneven.
Shortly before his death, in East Hampton in August 1935, he arranged to bequeath all the paintings remaining in his studio to the American Academy of Arts and Letters. According to his wish they were sold to establish a fund for the purchase of American works to be donated to museums.