&Eacutedouard Manet
was born in Paris on January 3. Manet's family was well to do. His father, Auguste, wanted him to follow in a legal career, but Manet wanted to paint. In the end, he went to Brazil to be in the Navy. His career took a different turn, though, when he failed his exams. Instead, he went to paint under Thomas Couture. Six years later, Manet left Couture and traveled throughout Europe, copying the old masters (just like Degas). His influences were the Spanish painters Velazquez and de Goya.
Few painters have suffered as controversial a career as &Eacutedouard Manet (1832-1883), the artist often cited as the founder of modern painting. His work was bold and unsentimental, and his contemporaries found it shocking.
Although Manet's work was strikingly different from the other art of his day, Manet himself was thoroughly schooled in the work of the old masters. He spent six years studying under Thomas Couture arduously copying the work of Rembrandt, Titian and Veldzquez.
Manet's first success came at the Salon of 1861. His painting,
The Spanish Singer
, was not only accepted, but won an honorable mention. Nevertheless, there were already those who resisted Manet's vision. "What poetry in the idiotic mule-driver figure,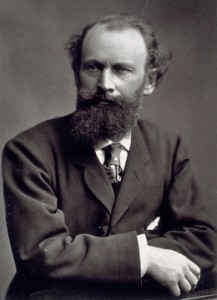 in the blank wall, in the onion and the cigarette butt," wrote one critic. "What a scourge to society is a realist painter," wrote another. Despite the attacks, Manet relished the official recognition conferred by the Salon, and he would continue to seek that official blessing throughout his life.
If Manet's critics had been offended by
The Spanish Singer
, they were completely scandalized by
Olympia
, the nude portrait Manet considered his masterpiece. Though evocative of Goya and Titian,
Olympia's
hard-edged realism shocked the audiences of its day. Rather than presenting a nude as a perfect form or setting it in a mythological context, Manet offered a bold, frank portrait, shocking in its perspective and style, of a prostitute waiting for a client.
Surprisingly, the work was accepted for the Salon of 1865. Audiences and critics, however, were unprepared for such a work. "Abuses rain upon me like hail," Manet wrote. His work was reviled as a "terrible canvas"; his model as "vile" and "wretched." "The crowd, as at the morgue, presses together in front of the gamy
Olympia
." The work displayed "an almost childish ignorance of the first elements of drawing" and Manet "a bent for unbelievable vulgarity." A hero of the avant garde, the artist was accused of being deliberately provocative.