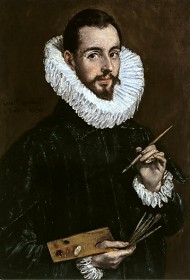 Self Portrait
El Greco (probably combination of the Castilian and the Venetian language for "The Greek",[?] b. 1541 in Crete, Republic of Venice – d. April 7, 1614 in Toledo, Spain) was a prominent painter, sculptor and architect of the Spanish Renaissance. El Greco never forgot that he was of Greek descent and usually signed his paintings in Greek letters with his full name, Doménicos Theotocópoulos thereby underscoring his origins. He was born in Crete (in the village Fodele or in Candia (now Heraklion), the largest city in the island), but decided to go to Venice to study. In 1577 he emigrated to Toledo, Spain, where he lived and worked until the end of his life.

El Greco is the best known Greek-born painter in the world. His highly individual dramatic and expressionistic style met with the puzzlement of his contemporaries but gained newfound appreciation in the 20th century. He is best known for tortuously elongated figures and often fantastic or phantasmagorical pigmentation; traits of an art which for certain intellectuals provides an ideal combination of the Eastern tradition of Byzantium and Western civilization. According to the evidence of his time, Doménicos Greco acquired his name, not only because of his place of origin, but also through his sublime art: "Out of the great esteem he was held in he was called the Greek (il Greco)."


Search for more El Greco items on AMAZON.